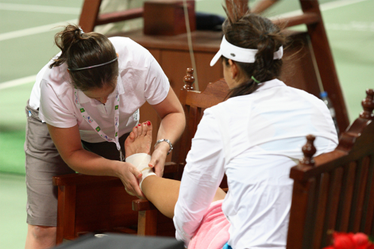 Dr. Newman, D.C. and Dr. Wilson, D.C. have both had experience treating many athletes and weekend warriors. Dr. Newman has gone through the diplomate program of the Academy of Sports Physicians sponsored by the ACA. Dr. Wilson competed in the USA Junior Olympics and international events for Tae Kwon Do.
Whether the injuries are spinal, or extremity related, we specialize in treating sports injuries from adjustments to physical rehabilitation. Chiropractic doctors are experts in correcting the joint dysfunction that can be causing your pain from a sports injury. The doctors at Newman Chiropractic are experts at alleviating the pain, correcting joint dysfunction, and the causes of your joint dysfunction, so your pain from the sports injury does not return.
Call us today to begin the process of a pain free life. The first step to relief from your pain from a sports injury is to schedule a free consultation in our office to discuss the specifics of your case.